Stormwater facilities are man-made structures that help reduce flooding, slow down water flow and clean contaminants from water.
Homeowners associations, commercial developments and any site with a constructed stormwater management pond or structural control are usually responsible for the care and management of these facilities, including regular stormwater inspection.
It is important to ensure that your stormwater management facilities are functioning properly, especially when it rains.
Most property owners or homeowner associations probably don't know the structural components of bio-swales, whether or not they are working properly or how much sediment in the detention/retention basin is too much.
Most properties need a stormwater facility maintenance professional who can inspect all aspects of the system and make recommendations for proper maintenance and repairs when required.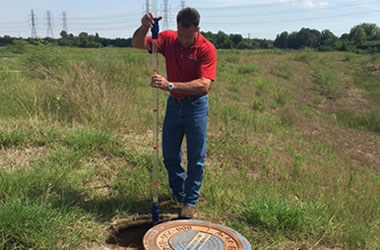 The first steps to becoming a proactive steward of a stormwater facility include conducting monthly stormwater inspections.
Monthly inspections of your stormwater facility is not only a good idea but, in many states, is now a local or state requirement. In the past few years, new legislation has strengthened the National Pollutant Discharge Elimination System, making compliance even more difficult for property owners and managers. By abiding, not only are you doing your part to prevent sediments and pollutants from entering waters of the U.S. as a result of stormwater runoff, but you are also providing proactive management of your stormwater facility that will definitely save you money over time.
Sometimes remediating stormwater facilities that have been neglected and poorly managed can cost tens of thousands of dollars… much more than would have been the case if proper preventive maintenance had been performed.
If you're not conducting required stormwater inspections as part of your overall stormwater management plan, start now. The stormwater management professionals at Upstream Environmental are standing by ready to assist.