While there are many different types of facilities used to control stormwater, two broad categories are Above Ground and Below Ground.
Above Ground facilities include basins, dry ponds, wet ponds, sand filters, bio-retention, swales, etc.
Below Ground facilities are usually unseen and may be underground pipe storage systems, oil/grit/trash separators, sand filters, vaults, or they may be proprietary devices for separating, filtering, or storing stormwater.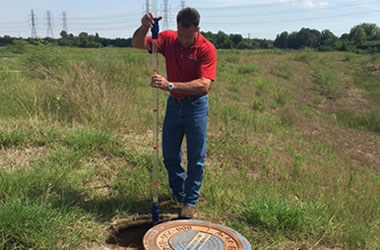 One of the most important – and simplest – tasks that is needed to ensure stormwater facilities are functioning is to inspect it:
Inspections help to identify maintenance issues.  This ensures that proper routine maintenance procedures are put in place.
Inspections catch small problems before they become larger (and more expensive) problems.
Our inspections include photo documentation in a concise, understandable format that includes recommendations.  Simple is better!  Digital delivery ensures easy filing and sharing.
We suggest monthly inspections for owners to ensure they are in compliance with regulations and to avoid surprises when municipalities perform periodic inspections.
Routine maintenance improves aesthetics, reduces long-term costs, and avoids costly surprises.
Maintenance of below-ground facilities targets common problems such as built up sedimentation and floatables preventing clogged devices which could cause flooding to your property and adjacent properties.
Sediment, litter and debris should be regularly cleaned to avoid clogging of infrastructure. Clogged pipes set up a chain reaction of sedimentation that significantly complicates remediation and drives up costs.
Routine maintenance reduces expensive repairs and helps meet regulatory obligations BEFORE a Notice of Violation is sent.
Depending on the type of facility, we recommend up to 2 times annually.  Some may be less, some more frequent.   We combine Inspections and maintenance into a simple, no-hassle and cost-effective program.
Underground stormwater treatment units are important for keeping sediment, trash, oil and other pollutants out of the natural environment. Because they are effective, they do require periodic cleaning to continue functioning properly.
Upstream Environmental has the equipment and expertise to clean any type of unit and properly dispose of the materials.
Please give us a call at (832) 447-9537 to schedule a free on-site inspection and consultation.